Stay Informed Of SQF Updates Regarding High Risk Areas
We make the latest SQF updates easy to find and understand. Learn more about the latest update and industry changes.

Compressed Air Testing Services
TRI Air Testing has been serving businesses with their air testing needs since 1975.
Today, we're providing our clients with simple and complete solutions to keep up with regular testing periods, as well as, being informed of new compliance standards and testing changes within your industry. We strive to continuebuilding equipment and effective processes to support our client's needs with SQF compliance in air purity.
Order a test kit, fill out the order form below to specify your request, or call us at 512-263-0498 to speak directly to our support team.
TRI now offers On-Site Testing Technicians
available for 3rd party testing.
Turnkey Service
Our team of experts, scientists, and technicians are trained to support a variety of industries with slightly different needs surrounding compressed air testing.
We handle all types of testing needs from DIY and equipment rental to full-service-oriented solutions with our experts training and testing on-site.
We Take Pride in Providing Peace of Mind with our Customer Support
24-7 certified practitioners and experts to answer questions



Dedicated testing associate to keep you notified of all compliance changes

Timely notifications for testing schedule



Routine 24 hour turnaround time on most analysis with no additional fees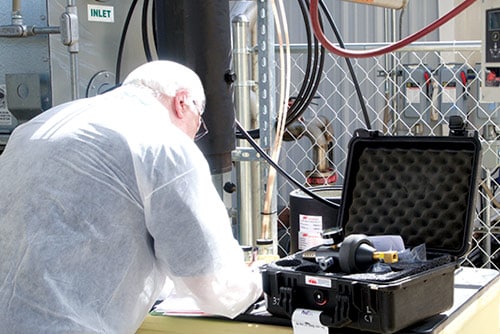 TRI Air Testing Even Offers Simple, Turn-Key Service by Providing:
On-Location technicians that are certified trained employees... not outsourced contractors


Our Technicians bring and own the equipment... no device leases are required


On-location orientations and training... for an in-person education and personalized experience
How It Works
TRI Air Testing understands the importance of industry standards and requirements.
ISO eight five seven three class tests air quality over multiple categories including...
Solid Particulates
Water
Total Oil (Aerosol Liquid & Vapor)
Gaseous Contaminants Content
Bacteria, Mold and Yeast
Our team tests specifically for a maximum number of particles per…
Cubic Meter
Mass Concentration
Particle Size and Count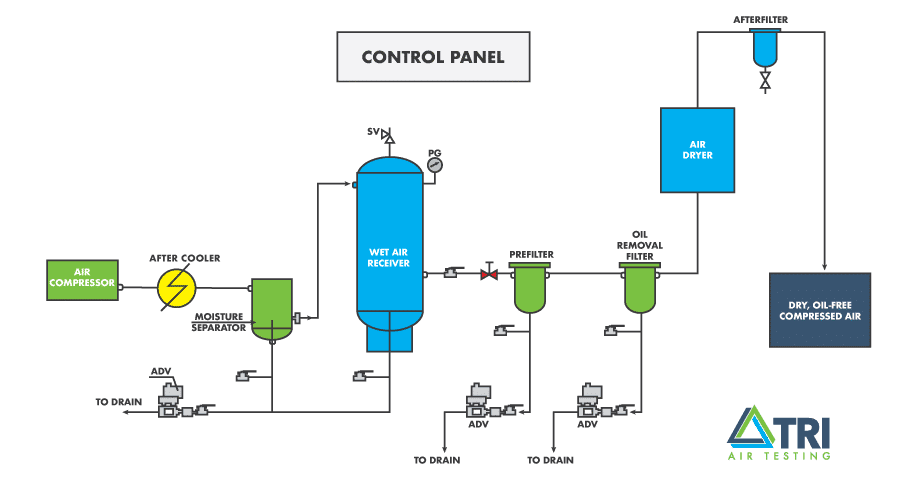 Our team handles compliance for SQF, BRC, NFPA, OSHA GRADE D&E, CSA 180.1, and NAVSEA US NAVY DIVE MANUAL SPECIFICATIONS and more.
We test air quality under ISO 8573 Class across multiple categories including solid particulates, water, total oil (aerosol liquid & vapor), gaseous contaminants content, bacteria, mold, and yeast.
Once we receive test kits at our facility, we will deliver compressed air test results within 24 hours. Bacteria and mold test results can be turned around in less than 1 week.
We provide simple, turnkey service which includes sending our trained technicians with all necessary equipment (no device leases required). We will also provide on-site orientation and training for your staff.
Do You Know What Tests You Are

REQUIRED

to Perform?
WE DO!
Testing for OSHA, USP, Grade D Breathing Air
Reliable Results & Online Report Access
Fastest Standard Turnaround Time
Established in 1975
AIHA-LAP, LLC Accredited Lab
ISO 17025-2005 Compliant
Dealer Programs Available
Test to a Wide Range of Custom & Industry Standards
Technical Support 24/7
COMPRESSED AIR TESTING
WE PIONEERED THE SCIENCE!
TRI completes more than

4,000,000

analyses annually, working with many of the top companies in the world for compliance, validation and peace of mind.
Air/Gas Testing For Your Business
MADE EASY!
CONTACT US FOR A FREE QUOTE
We know compressed air so you don't have to!
The TRI Air Testing Blog has been created to help foster greater discussion on compressed air testing and the many industries that utilize compressed air. We welcome your questions, success stories, site photos and more. TRI Air Testing, an AIHA-accredited laboratory, provides compressed air analysis for fire service, diving, medical, industrial, governmental and pharmaceutical companies.…
Read More
ACCREDITATION
CERTIFICATIONS & MEMBERSHIPS
ASK AN AIR TESTING EXPERT